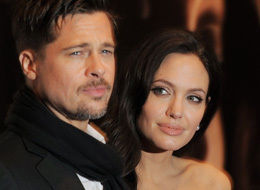 Fuhh
,alangkah bertuahnya Brad Pitt
ek dapat hadiah semahal itu.Kalau korang convert ke RM
wow..meletup2 beb.
Walaupun dia agak bz kebelakangan ini,dan selepas three-day trip to Haiti
where she helped injured orphans
.Angelina kini mahu menumpukan perhatian kepada kekasih hatinya Brad.
Sempena sambutan hari kekasih kali ini ,Angelina telah menghadiahkan sebatang pokok olive oil yang berusia 200 tahun.Pokok yang berharga $18,500 itu akan ditanam di gardens of Chateau Miraval,yang juga merupakan salah satu estate mereka in the south of France
.
"Ange bought it from a nursery called The English Garden Centre in Valbonne, near their house
," a source said. "It's a very special tree and cost her a fortune
."
Is Angelina extending an olive branch as a peace offering? Just she knows..Hope both of u will be married
soon Ange.
till then;xoxo,