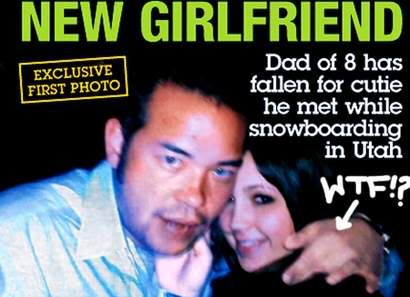 While his exwife Kate Gosselin is starting the new year with clean slate,John Gosselin is still being a panty chaser and found himself a new girlfriend.


TNE reports (along with a terribly edited photo) the douchebag's new lady is 25 year old Morgan, whom he met while snowboarding in Utah over Thanksgiving and have been inseparable ever since.

He even flew her to New York after Christmas, but unfortunately a shit storm hit his apartment so they had to crash in a hotel in Reading, Pennsylvania.

The insider dishes that when Hailey the unknown apartment raider trashed Jon's apartment "Morgan helped keep him calm, and he was extremely thankful to have her there."

He's even thinking about moving to Utah to be closer to his new lady, even though he claims he wants to take this relationship "slow".

Moving somewhere across the country from your EIGHT kids after only 2 months of dating? Yeah, that's taking it slow.

He'll probably change his mind after he realizes there aren't any Ed Hardy stores in the state.