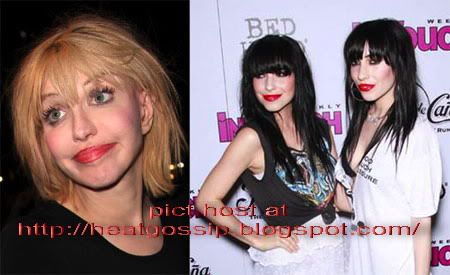 Although she deleted her Facebook, Courtney Love has popped back up on Twitter and it seems her usual rants are so 2009!
She tweeted some love non-offensive comments on The Veronica's page and vice versa, so their feud of last summer is now a thing of the past - or the rockers have just learned how to handle Courtney's bullshiz!
Courtney tweeted, "in short a sweet and insanely talented jeweler eclettica that you SHOULD be wearing krust targets along with exploiting YOU" and "but karma worked out the way it should :) I love karma."


WTF?! Another comment about clothing/jewelry designers no longer holds the same weight because Jessica of The Veronicas responded:

"Oh c'mon Courtney, you know I think you're great. Lets not drag bullshit into the new year! <3 I own almost everything you have put out, respect everything you say. You are a sole reason woman in music get to do what they do.. and I admire you for that more than anything. You are a strong lady, and I hope that beyond all the shit, you know that you are an Inspiration before anything else. And in the end these lyrics inspire me more than anything else… 'If the world is so wrong…. yeah you can take it all With one song..' Im still searching for that song 3 xxxx"